May 10th, 2019
by Good Life Kitchen
This Low Carb Zucchini Lasagna is a healthy and tasty alternative to normal lasagna. You don't need pasta or a heavy sauce for this delicious lasagna!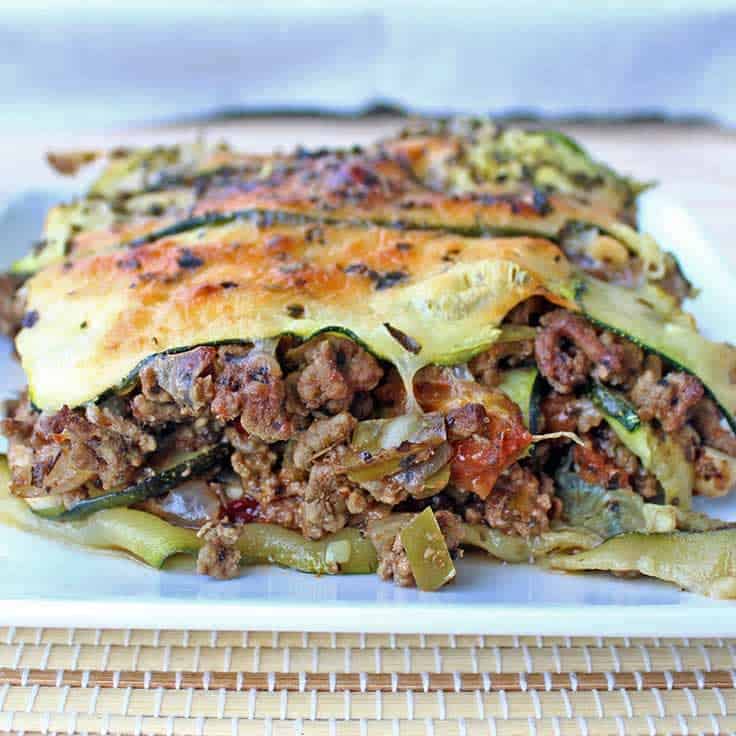 How to make Low Carb Zucchini Lasagna
This Low Carb Zucchini Lasagna requires a bit of prep time in order for the flavors to really flourish, but it's definitely worth it. If the sauce is allowed to simmer on the stove for the full 25 minutes, it will bring a lot of yumminess to the beef and zucchini.
Let me walk you through the process step-by-step:
Step 1 – Prepare the zucchinis
Use a julienne peeler to cut the zucchini into ½-inch (1 cm) slices. Sprinkle lightly with salt and set aside for 10 minutes.
Blot the zucchini slices with a paper towel and grill or broil them in the oven for 3 minutes at high heat.
After broiling, place the zucchini on paper towels (you want to get as much of the liquid out as possible).
Step 2 – Prepare the rest of the veggies
Cut off the ends of the tomatoes and make an X insertion on top. Place in boiling water for a few minutes. Pour cold water over, and peel off the skin (or use canned tomatoes).
Roughly chop onions, garlic, chili, peeled tomatoes, and mushrooms.
Add a little cooking spray to a deep skillet and fry the garlic, onion, and chili for 1 min.
Add the tomatoes and mushrooms to the skillet and sauté the vegetables for an additional 4 minutes. Then take them off the heat and set aside.
Step 3 – Cook the beef
Cook the beef with the paprika in the same skillet you used for the veggie until fully browned.
Add the vegetables back into the skillet together with the chicken bouillon and remaining spices and let it simmer for 25 minutes over low heat.
Step 4 – Assemble the Lasagna
Line a small baking tray with parchment paper and use 1/3 of the zucchini to make a layer in the bottom. Put 1/3 of the meat sauce on top. Add another layer of zucchini and continue like this until you're out of sauce and zucchini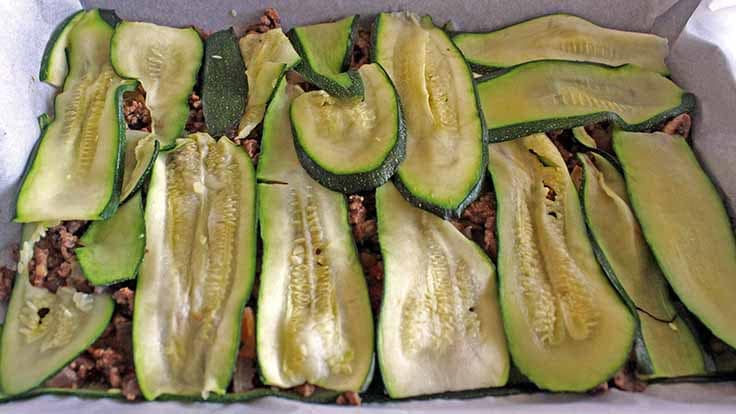 Step 5 – Add mozzarella cheese
Spread shredded mozzarella on top and bake for 35 minutes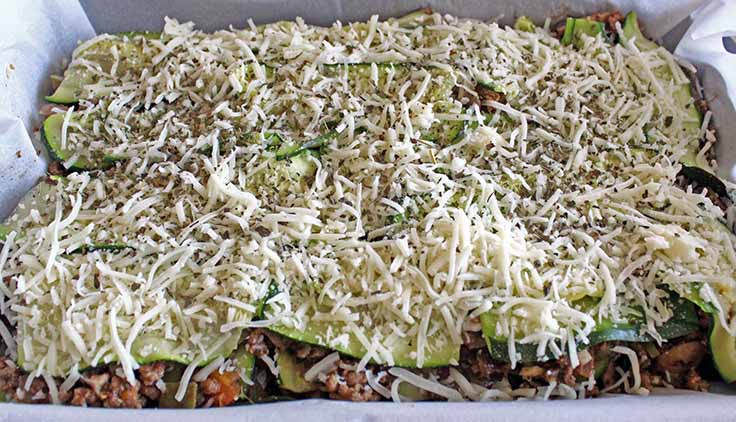 Take the lasagna out of the oven and allow to rest for 10 minutes before serving.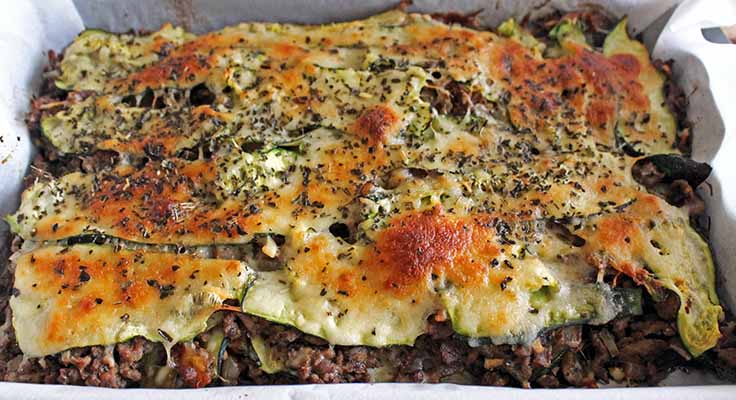 That's it!